Here at the Maui Ocean Center, it's beginning to look a lot like fish-mas! All is bright among the exhibits, lit with dazzling cup corals and fish dashing through the reef. Crustaceans are rockin' around the Christmas tree worms to the tune of jingle shells. Our aquarists are taking notes of who's been naughty or nice.
Given the number of marine animals with festive names and traits synonymous with the holidays, it's not difficult to imagine what Christmas would look like on the reef. In the spirit of the season, here are our top picks of animals that creatively remind us of the holidays.
The snowflake moray eel, or puhi kāpā in Hawaiian, slithers between coral heads and crevices with ease. Between the stony, earth-toned corals, the snowflake moray stands out with its white body peppered with black and yellow blotches. Its snow-white snout shines cleanly with little to no markings – just like fresh snowfall.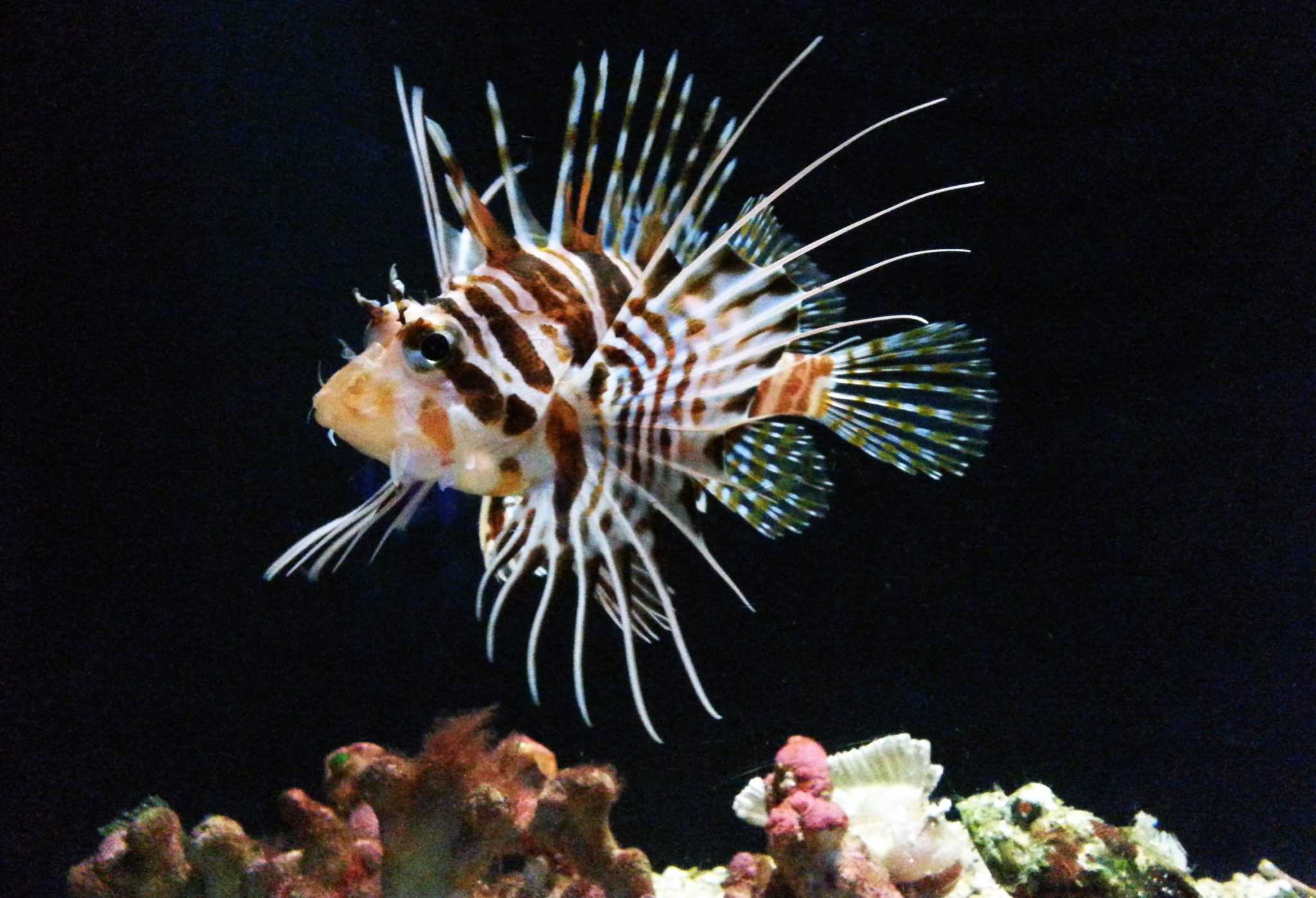 Turkeys take center table during most holiday feasts. Fortunately, it's not the Hawaiian turkeyfish. Armed with long, venomous spines, this fish packs a punch to deter unwanted visitors. If you're lucky, you may see the Hawaiian turkeyfish gliding between corals or hiding under ledges. Also known as the Hawaiian red lionfish or nohu pinao, it is genetically unique and found only in Hawai'i.
Speaking of turkey, holiday meals and cooler weather spells the perfect condition for long naps and oversleeping. Waking up early may have you feeling crabby, like a sleepy sponge crab. This lumbering, gentle giant trods slowly along the seafloor in a sleepwalking-like trance. Using two sets of rear legs, it carries a sponge over its back for camouflage. Despite its off-putting appearance, sleepy sponge crabs are quite docile.
Then there are wrasse fish, Hawai'i's largest fish family, who are as visually stunning as the finest Christmas ornaments. The endemic ornate wrasse, or la'o, is reddish in color with iridescent markings ranging from forest greens to hues of violet and blue. Another jolly example is the Christmas wrasse whose Hawaiian name, 'awela, means "hot". Aptly named, the Christmas wrasse bears a vibrant salmon color with electric blue and green patterns that contrast beautifully among other reef fish.
Decorative stars adorn the tops of Christmas trees in an array of shapes, sizes, and colors. This variation holds true for sea stars. Hawai'i is home to over 20 known shallow-water sea star species and over 60 species found in deep-water habitats. Diversity is apparent in species like the toenail star whose arms are tipped with two, pink plates resembling toenails. Or the magnificent star, a rarely seen species whose 10-11 arms breaks the mold of the five-arm makeup of most sea stars. Others take on a more traditional appearance, like the red and purple velvet stars and knobby star.
The list goes on, from candy cane shrimp to angelfish and more. In Hawai'i, we are gifted with an incredibly diverse and unique marine environment. It provides us with joy in many forms, from surfing to paddling, snorkeling to fishing, and everything in between. However, it is as fragile as it is beautiful. As we bring closure to 2019 and ring in the New Year, consider giving the greatest gift of all to our ocean: our care and respect. Whether it's volunteering for a beach cleanup, supporting local non-profits, or making simple changes like saying no to single-use plastics, we can help protect our marine life and home for future generations.
From your friends and fishes at the Maui Ocean Center, we wish you a merry & happy holiday season – Mele Kalikimaka and Hau'oli Makahiki Hou!