Aquari-OM Yoga Classes at Maui Ocean Center
Experience a unique and immersive yoga class, Aquari-om yoga, at Maui Ocean Center, where you can connect with Hawai'i's marine life while practicing yoga in the captivating setting of the Open Ocean exhibit. Held after daily hours, this tranquil environment offers a one-of-a-kind opportunity to practice among sharks, rays, and schooling fish in the 750,000-gallon exhibit. Whether you are a seasoned yogi or a beginner, all skill levels are welcome, and reservations are required due to limited space. Participants must be at least 12 years old, and anyone under 18 must be accompanied by an adult.
What to bring:
When attending the AQUARI-OM yoga class at Maui Ocean Center, it's important to come prepared to make the most of this unique experience. Here's a list of items you should bring with you:
Yoga Mat

Water Bottle

Comfortable Clothing: Wear comfortable and flexible clothing that allows you to move freely during the yoga poses. 

Valid Identification: If you are a kamaʻāina (State of Hawaiʻi resident) or a Nā Hoa Kai member, bring valid identification to avail any applicable discounts.

Positive Energy: Come with an open mind and a positive attitude, ready to connect with Hawaiʻi's marine life and enjoy this extraordinary yoga experience.
Cost: $30 for visitors, $25 for kamaʻāina (State of Hawaiʻi resident) and Nā Hoa Kai members* 
*$5 from each ticket is donated to MOC Marine Institute to support coral restoration & sea turtle rescue
ADDITIONAL INFO:
Participants must be at least 12 years old, and anyone under the age of 18 must be accompanied by an adult

Check-in will take place at 4:45 pm in Maui Ocean Center's Administration Office. Late arrivals will not be permitted after 5 pm

Waiver and photo release must be signed upon check-in

Participants must bring their own yoga mat and water bottle
BUY TICKETS
Styles of Yoga
Aquari-OM yoga is typically a blend of hatha, yin and vinyasa yoga although each class varies. Our classes include a blend of principles and can pull from any of the following styles:
Hatha Yoga: Hatha is a gentle and foundational style that focuses on basic postures (asanas) and breathing techniques. It is suitable for beginners and emphasizes the alignment and balance of the body and mind.
Vinyasa Yoga: Vinyasa is a dynamic and flowing style that synchronizes movement with breath. It involves smoothly transitioning from one pose to another, creating a continuous and meditative flow.
Ashtanga Yoga: Ashtanga is a more rigorous and structured style, involving a set sequence of poses that progressively become more challenging. It emphasizes strength, flexibility, and breath control.
Kundalini Yoga: Kundalini focuses on awakening and harnessing the energy within the body through dynamic movements, breathwork, chanting, and meditation.
Yin Yoga: Yin is a slow-paced style that involves holding passive poses for an extended period (often 3-5 minutes). It targets the deep connective tissues and aims to improve flexibility and promote relaxation.
Restorative Yoga: Restorative yoga is deeply relaxing and nurturing, involving gentle poses supported by props to encourage complete relaxation and stress relief.
What To Expect Attending Aquari-OM Yoga Classes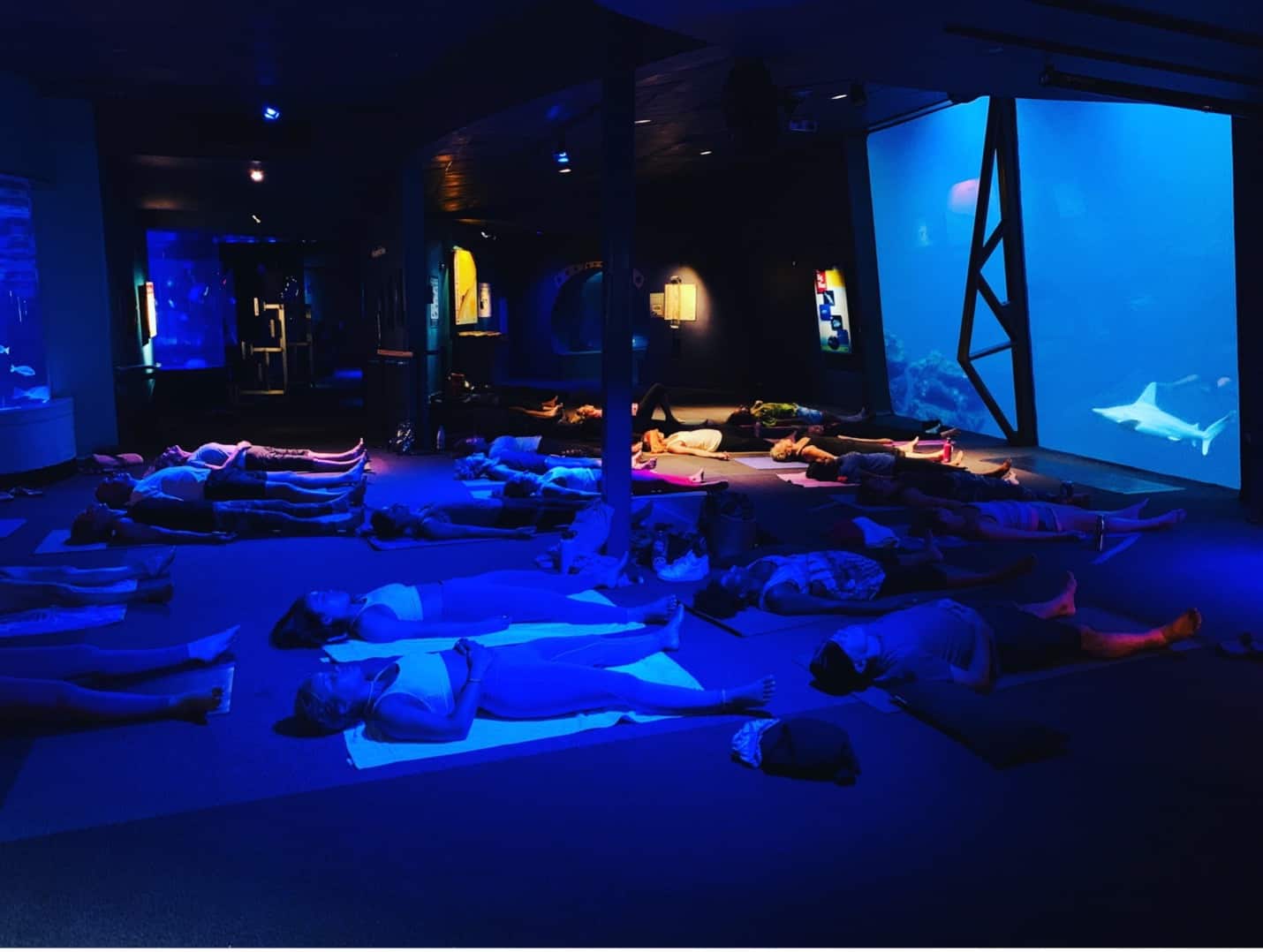 Our classes vary each session but you can typically expect each class to begin with a gentle warm-up that involves stretches and breathing exercises to prepare the body for the practice. The main part of the class focuses on practicing various yoga poses or asanas, which can include standing, sitting, balancing, and lying down postures. The instructor guides you through each pose, offering alignment cues and modifications as needed to ensure a safe and effective practice.
Breath awareness is a fundamental aspect of yoga, with emphasis placed on connecting breath with movement. Mindful breathing helps enhance the flow of energy and promotes relaxation during the practice. Many yoga classes also incorporate mindfulness and meditation practices, which may involve guided meditation or moments of quiet reflection to calm the mind and reduce stress.
As the class nears its end, there is usually a final relaxation pose called Savasana or Corpse Pose. During this time, you lie on your back, allowing your body to fully relax and integrate the benefits of the practice. The class concludes with a closing moment, often involving expressions of gratitude or intention-setting, fostering a sense of unity and community among the participants.