Take your ocean exploration to a deeper level with one of our immersive experiences
If you're the type who takes the tide less traveled, or possesses a salty curiosity, you should sign up for one of Maui Ocean Center's extra special experiences. Dive into our Open Ocean exhibit or help our naturalist feed and care for our Hawaiian honū (sea turtles). Whichever adventure you choose, it's guaranteed to be memorable!
The Maui Ocean Center's Shark Diving Experience is an immersive and unforgettable adventure that offers a deep connection with the marine world.
The experience begins with a captivating presentation on Hawaiian culture and the profound bond between the local people and sharks, setting the stage for a meaningful and educational dive.
Sharks play a crucial role in the ocean ecosystem, earning their status as keystone species. With over 500 shark species worldwide, each one serves an essential purpose in maintaining the delicate balance of marine life. These apex predators possess remarkable senses that help keep the oceans free from disease, sickness, and decay, making them vital contributors to preserving clean waters. In the Hawaiian context, sharks hold an even deeper significance due to the influence of the islands' history. Many Hawaiian families consider sharks to be ʻaumākua, ancestral guides that watch over them from beyond the earthly realm. Revered as protectors, these ʻaumākua take the form of sharks or other animals, serving as a connection between the spiritual and physical realms. As a result, sharks in Hawaiʻi are held in high regard and respected by the local communities, highlighting the profound interplay between Hawaiian culture, history, and the enduring relationship with these majestic creatures.
Led by experienced Maui Ocean Center Divemasters, you and a maximum of three other divers will have an exclusive opportunity to explore the Open Ocean tank, a habitat teeming with more than 20 sharks, along with hundreds of fish and rays. Without the constraints of a cage, you'll enjoy an intimate and immersive encounter with these magnificent creatures.
To ensure your comfort and safety, you can choose from three dive equipment packages in advance, including a wetsuit, weight, and air tank, as well as optional gear such as a regulator, buoyancy compensator device, mask, and fins. Before and after your dive, you'll have access to dedicated facilities, including a diver shower and refresh room.
As a participant in Shark Dive Maui, you'll also receive complimentary General Admission to the Maui Ocean Center for yourself and one guest on the same day. Additionally, exclusive keepsakes such as a Shark Dive Maui t-shirt, luggage tag, and a personalized commemorative certificate will serve as lasting reminders of your extraordinary adventure.
Shark Dive Maui is available on Mondays, Wednesdays, and Fridays, subject to availability. Participants must be at least 12 years old and hold a valid SCUBA certification. Reservations are non-refundable, and Maui Ocean Center reserves the right to cancel a dive or diver for any reason. Please make your reservation at least 24 hours in advance.
With its blend of cultural immersion, exhilarating exploration, and a focus on fostering respect for sharks and the ocean ecosystem, the Shark Dive Maui experience offers a unique encounter that will leave you with a profound appreciation for these magnificent creatures and their vital role in the marine world.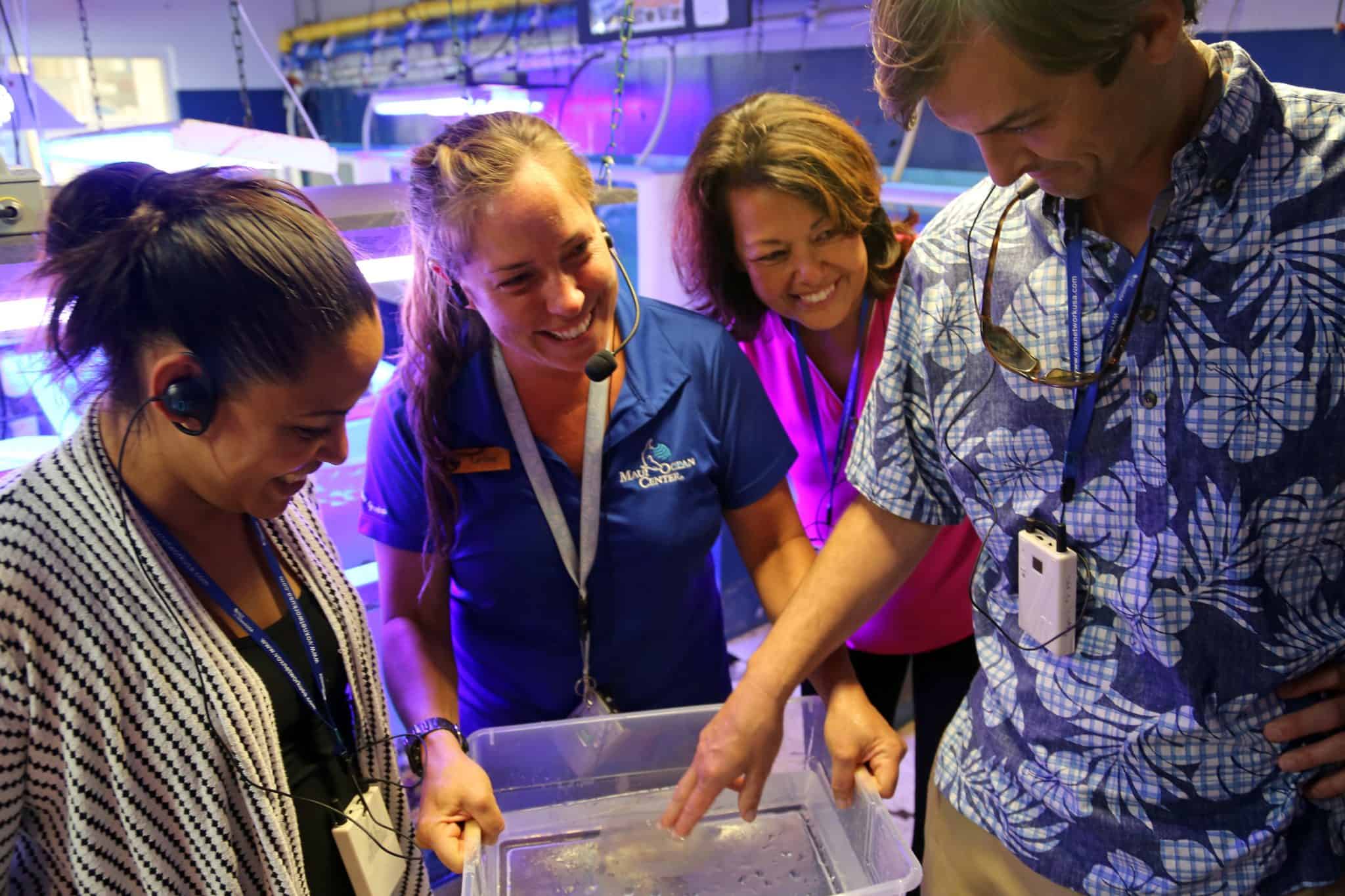 Embark on an exclusive and up-close experience with the Behind the Scenes Tour at the Maui Ocean Center. Led by a dedicated marine naturalist, this 60-minute tour takes you beyond the public exhibits and into the behind-the-scenes operations of our aquarium. Explore the coral propagation lab and learn about our unique open water system while delving into the science of raising aquaculture animals, marine health, and nutrition. Whether you're curious about the inner workings of our aquarium or a marine enthusiast seeking a deeper understanding of Hawaiʻi's marine life, this tour promises to be a fascinating and educational journey. Come prepared with your questions and immerse yourself in the world of marine conservation.
At Maui Ocean Center, we are committed to marine education and accessibility for all. The tour is ADA compliant and stroller accessible, and audio devices are available. Please contact us at 808-270-7000 if you have any requests regarding disability accommodations. It's important to note that all participants must wear a mask or face covering throughout the duration of the tour. Our sustainable practices and dedication to preserving Hawaiʻi's natural and cultural resources are evident in every aspect of our operations, from rare native species propagation to reducing single-use plastics, water usage, and carbon emissions. We are proud to maintain our certification with the Sustainable Tourism Association of Hawaiʻi.
The tour is available on Monday, Wednesday, Thursday, and Friday, with two time slots: 
11:30 am – 12:30 pm 
1:30 pm – 2:30 pm. 
General Admission must be purchased in order to add the Behind the Scenes Tour. Children aged 3 and under are admitted free when accompanied by an adult, and all children under 16 years of age must be accompanied by an adult. Come and share this remarkable experience with your friends and family at the Maui Ocean Center. All ages are welcome, although the tour is recommended for participants aged 6 and above. We suggest wearing closed walking shoes for your comfort.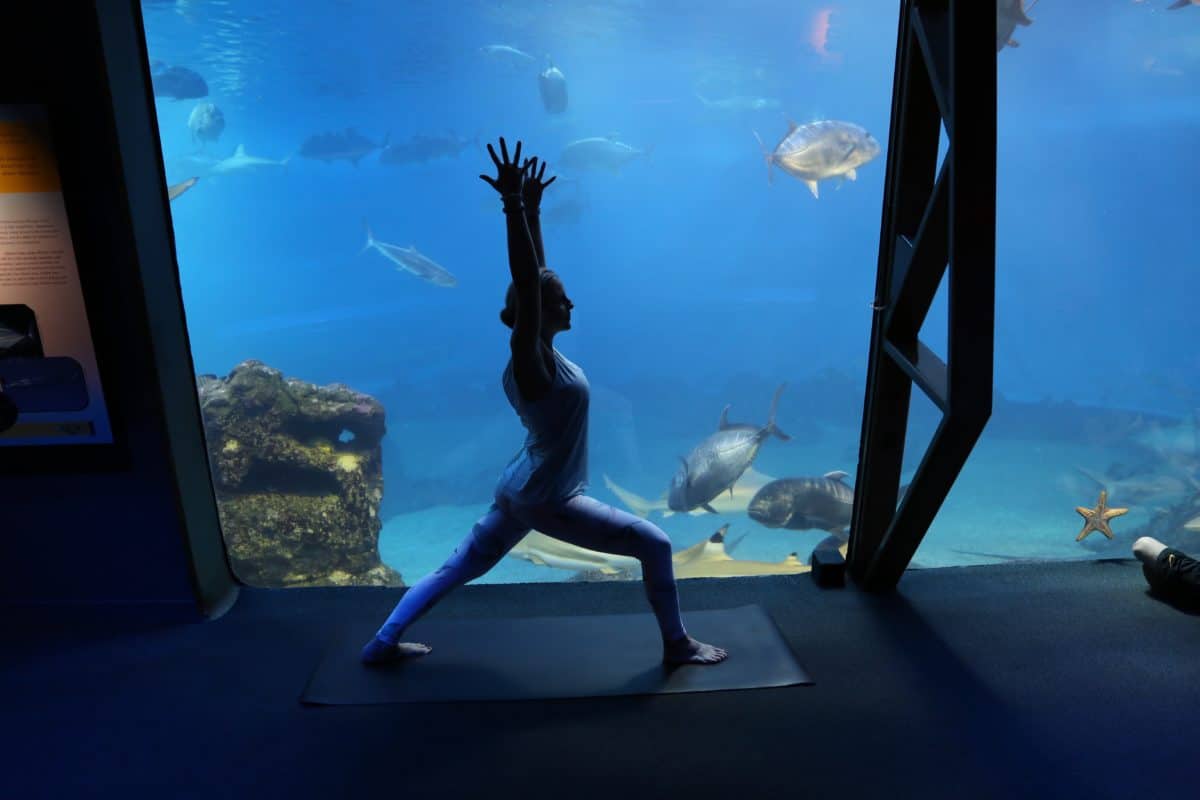 Get ready for the most unique yoga experiences you'll ever have with Aquari-Om Yoga at the Maui Ocean Center. Connect with Hawaiʻi's marine life as you practice yoga amidst the presence of sharks, rays, and schooling fish in our Open Ocean exhibit. This class is held after the daily hours of the aquarium, providing a tranquil environment to enjoy our 750,000-gallon exhibit. All skill levels are welcome, and reservations are required due to limited space. Participants must bring their own yoga mat and water bottle. The classes are available for ages 12 and up.
Aquari-Om Yoga Classes take place every Tuesday and Thursday from 5 pm to 6 pm throughout 2023. The cost is $30 for visitors and $25 for kamaʻāina (State of Hawaiʻi residents) and Nā Hoa Kai members. $5 from each ticket is donated to the MOC Marine Institute to support coral restoration and sea turtle rescue.
Participants must be at least 12 years old, and anyone under 18 must be accompanied by an adult. Check-in is at 4:45 pm in Maui Ocean Center's Administration Office, and late arrivals are not permitted after 5 pm. A waiver and photo release must be signed upon check-in. Don't forget to bring your own yoga mat and water bottle for your comfort during the class. Experience the beauty of yoga and the ocean with Aquari-Om Yoga Classes at the Maui Ocean Center.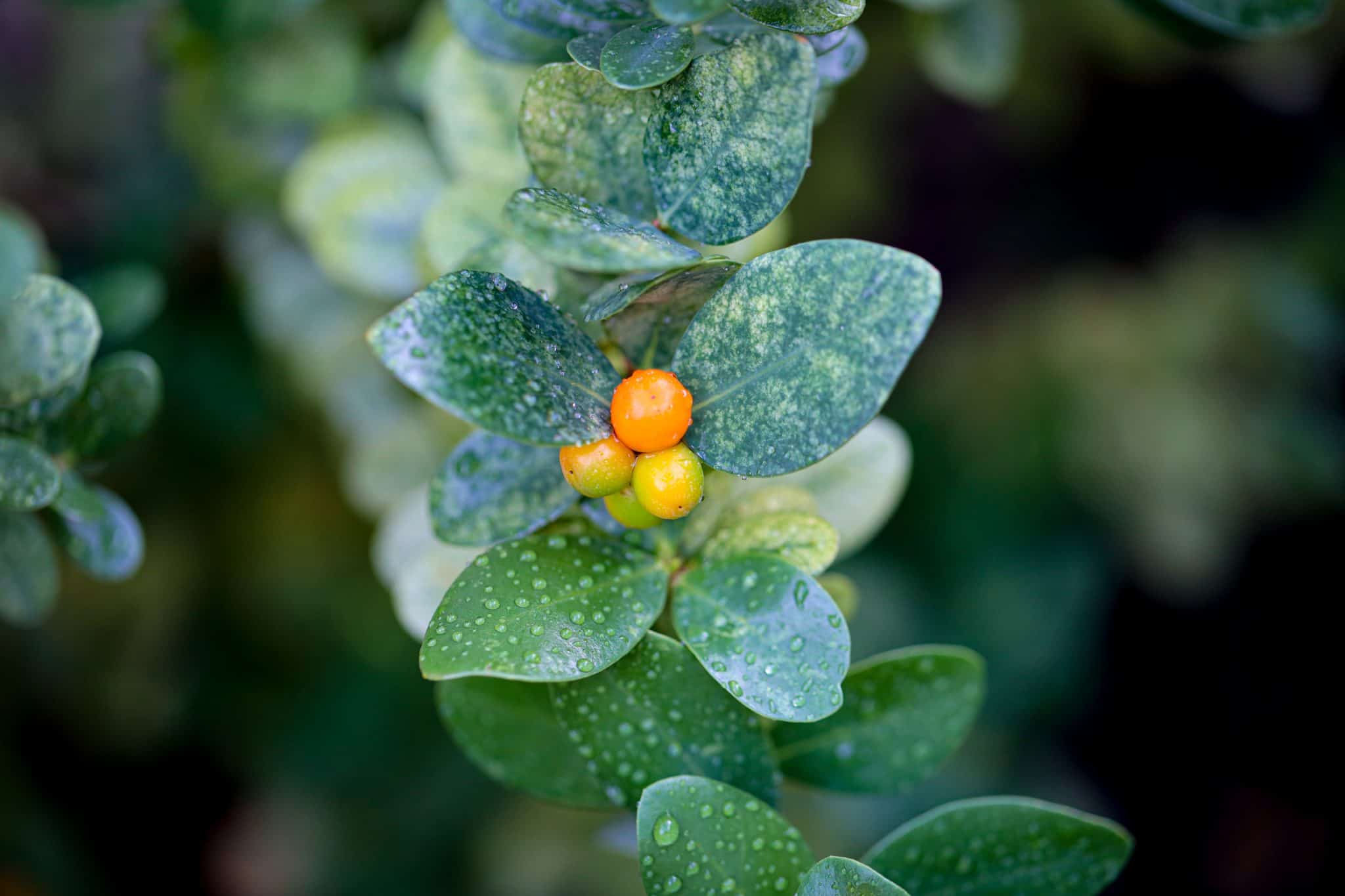 Immerse yourself in the rich flora and cultural heritage of Hawaiʻi during the Hawaiian Culture & Plant Tour at the Maui Ocean Center. Led by a dedicated marine naturalist, this exclusive 90-minute tour explores the ecological and cultural interconnections between plants and marine life. Engage your senses as you smell the subtle fragrance of the pōhinahina leaf, hear the rattling kukui nut, and recite Hawaiian proverbs. Experience hands-on activities such as using a pohaku ku'i 'ai (poi pounding stone) to mash kalo (taro root) and taste a variety of crops brought to Hawaiʻi by Polynesian settlers. Your naturalist guide will take you on a journey from the mountains to the sea, highlighting the significance of plants like the 'Ohia Lehua and Naupaka Kahakai, which are intertwined with Hawaiian legends and have shaped the island's ecosystem.
Whether you have a deep interest in traditional Hawaiian culture and ecosystems or simply appreciate the beauty of plants, this interactive tour will leave you with a profound understanding and appreciation of Hawaiʻi's diverse flora. By joining this experience, you will also contribute to the conservation efforts of the Maui Nui Botanical Garden, as a portion of the tour proceeds supports their initiative to replant native coastal vegetation and protect coral reefs from destructive coastal erosion.
The Hawaiian Culture & Plant Tour takes place on Tuesdays and Thursdays from 10:30 am to 12:00 pm. While participants of all ages are welcome, we recommend the tour for individuals aged 10 and above due to its length and content. Closed walking shoes are recommended, and please note that the tour involves physical activity, including walking and standing for the full duration, as well as exposure to sun and wind. We believe in making marine education accessible to all, so if you have any disability accommodation requests, please contact us at 808-270-7000.
At Maui Ocean Center, we are committed to the care and preservation of Hawaiʻi's natural and cultural resources. Our sustainable practices extend from the propagation of rare native species to reducing single-use plastics, water usage, and carbon emissions. As proud members of the Sustainable Tourism Association of Hawai'i, we strive to create a positive impact on the environment and inspire others to join us in our conservation efforts.
Join us on this immersive journey through Hawaiʻi's diverse flora, and together, let's celebrate and protect the natural and cultural heritage of the islands.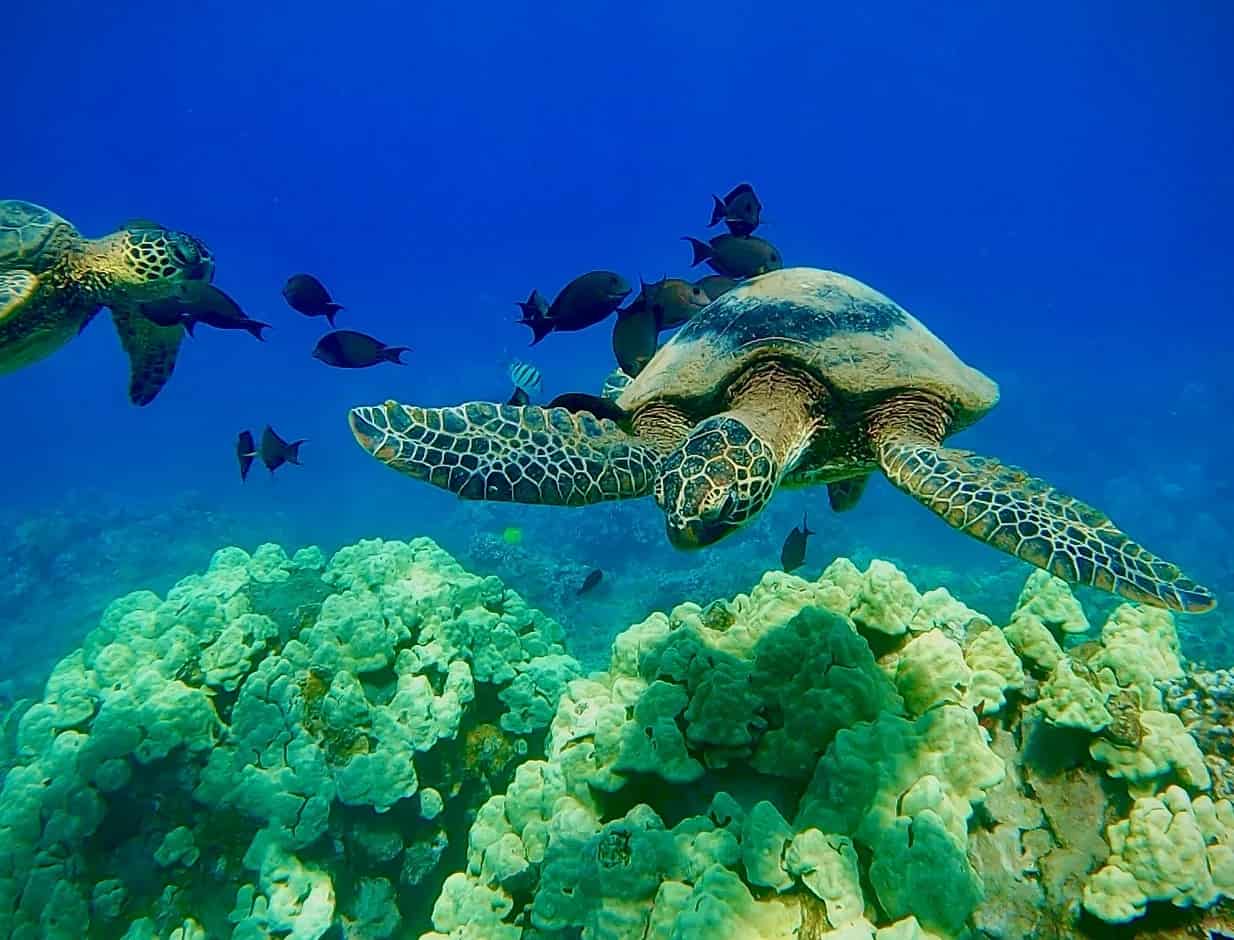 Embark on an informative guided tour of Maui's oldest reef with our Maui snorkeling tour. 
Our conservation-based ecotours focus on providing a fun and educational snorkel experience for all ages. Located just south of Lahaina, join us as we explore and discover the mesmerizing marine life that inhabits Hawaiʻi's captivating waters. At Maui Ocean Center, our mission is to offer an enjoyable snorkeling adventure while promoting ocean conservation and preservation. Our trained marine biologist guides ensure you snorkel safely while educating you about the reef ecosystem we visit. We provide all the necessary snorkel gear, including reef-safe sunscreen and flotation devices, to make your experience comfortable and safe. Rest assured that all gear is thoroughly cleaned and inspected after each tour. 
We also capture the highlights of your adventure with our underwater cameras and provide you with a photo package, delivering memorable shots straight to your inbox. With a strong focus on conservation, we work diligently to protect the fragile ocean ecosystem, keeping the reef clean and ensuring your party's safety and comfort throughout the tour. Join us for a snorkeling experience that combines fun, education, and a commitment to preserving the natural beauty of Maui's coral reefs.